Immagine: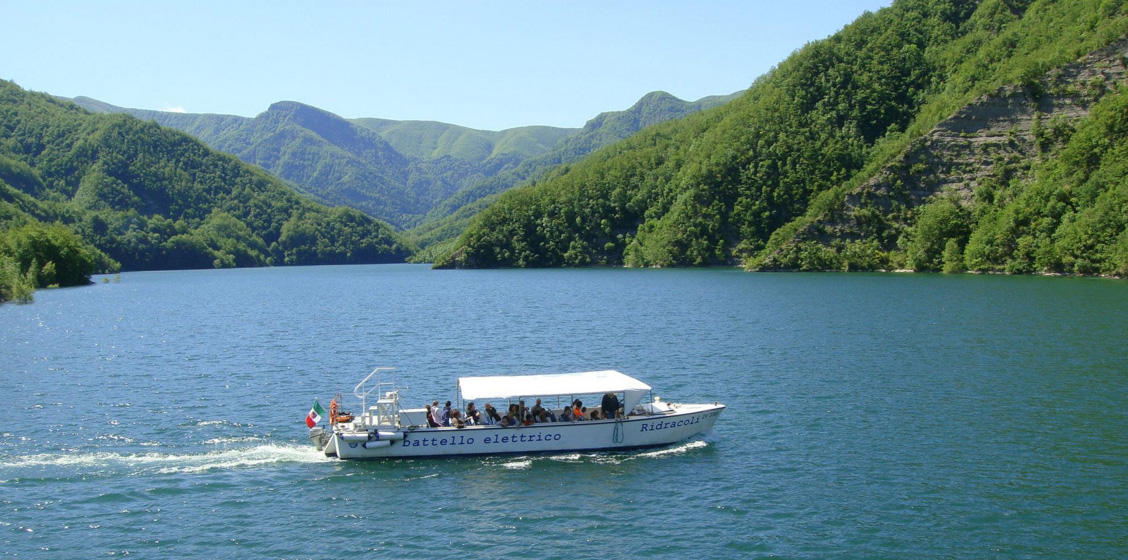 Electric boat on the lake of Ridracoli
From mid-March to early September it is possible to visit the lake via electric boat, which allows to reach the most hidden corners of the lake, accompanied only by the sounds of nature.
The boat trip lasts 45 minutes and can make the hikers disembark at the Rifugio Cà di Sopra and the Comignolo (from which, in about 45 minutes, the Lama Forest can be reached).
On board a guide is available to tell the story of the dam, answer questions, and satisfy visitors' curiosity.
RULES
1. The boat cannot be booked by telephone, but can only be purchased upon boarding (cross the dam and reach the ticket office next to the kiosk) or in the online shop, once the service becomes available
2. The boat ticket is to be considered separate from the normal ticket for entrance to the dam
3. Arrival points and recoveries must be agreed upon departure, specifying a timetable and using the special return ticket at reduced rate
4. The boat is also available on other days for groups by reservation, combined with the guided tour
5. "Hikers' boat": Sundays and holidays at 10.00 am there is a free ride, without a guide, which accompanies to the raft of the Comignolo/Seghettina (depending on the period). This boat returns to the dam empty.
"Caronte, a trip through the sacred forests"
Caronte is a small ecological boat, completely electric, which transports hikers and their mountain bikes or e-bikes from the embarkation near the dam to the raft of Comignolo, through the majestic Lama Forest. The service can be activated every day by reservation and can transport 6/7 cyclists with their own bikes for each trip, lasting 20/25 minutes. Alternatively, Caronte is a valid addition to the main boat, capable of transporting up to 11 bikes.
Canoeing on the lake
Immersed in silence and pushed along simply by the strength of your own arms, you may admire the most remote and inaccessible views of the lake, listen undisturbed to the bird songs, and admire the majesty of the forest... directly from the water! Canoeing is an activity which is also suitable for children (those from 8 years upwards can paddle too), ideal for individuals and groups. And for those who want to stretch their legs, there is the possibility to combine canoeing and trekking.
For further information:
Idro Ecomuseo delle Acque di Ridracoli: Borgo di Ridracoli - 47021 Bagno di Romagna (FC) - Tel. 0543/917912 - Fax 0543/903733
ladigadiridracoli@atlantide.net - www.ecomuseoridracoli.it